The sting of Dassy's elimination still fresh on my mind, we begin another episode of still my favorite dance show. Let's hope the judges get it right this time.
SO YOU THINK YOU CAN DANCE
SEASON 14
TOP 7 PERFORM
Just when I was thinking, okay, this is a nice Broadway routine — nothing special, descent routine – they bust out with that awesome tap number in the middle and I wonder is there anything Robert can't do? Then Jenna comes out in this ridiculous outfit and wow, way to end a number. I'm loving the big extravagant group routines. It really adds so much to the show. (Song:  "Overture" by Merrily We Roll Along (2012 New York Cast) / Choreographer:  Warren Carlyle)
Random Opening Thoughts:
Cat is wearing an outfit that looks too young for her. Or is it just the braided pigtails that makes it feel that way.
Also…damn those shoes…she must be like 9 feet tall in those!
Cat says next week is a double elimination. What the hell?
 
Duet #1: Lex and All-Star Gaby
Style: Hip Hop / Choreographer: Luther Brown
Song: "Humble" by Kendrick Lamar
Performance Thoughts: First of all, what is going on with Gaby's hair? Second of all, this routine was super fly. What? That words not cool anymore? Dope? Not that one either? Whatever, you could tell these two guys were just having sooooo much fun. It's like they were breathing these moves. They weren't thinking about it, they were just dancing and having fun and this kind of dancing was the only way they could express themselves. It just made me smile. I loved it. Standing O well deserved. Performance Grade: A
Solo #1: Taylor
Song: "Open Hands" by Ingrid Michaelson feat. Trent Dabbs
Performance Thoughts:  She really shows off her control and flexibility (and writhing) skills here.  Grade: B
Duet #2: Logan and All-Star Allison
Style: African Jazz / Choreographer: Sean Cheesman
Song: "Kabila" by Lord Kraven
Performance Thoughts:  It's very animalistic, so quick moving, and there are these crazy intense moves that Logan pulls off flipping and turning Allison every which way. There was a set of leg spins that Logan did that were so beautiful and then when Allison did the upside down splits and Logan spun her around it was pretty amazing. I loved it. Nigel hits it on the nose when he calls the choreography both difficult and impressive. Performance Thoughts: A
Solo #2: Mark
Song: "Funky Town" by Lipps, Inc
Performance Thoughts: I'm sure I've said it before but I love seeing him dancing in his own style. He just has so much flair and style and personality. Performance: B
Duet #3: Kaylee and All-Star Cyrus
Style: Contemporary / Choreographer: Tyce Diorio
Song: "DLKA" by Troye Sivan feat. Tkay Maidza
Performance: I love that the piece is weird and funky and Kaylee gets to do weird jerky movements as opposed to the light delicate contemporary. However, I'm not sure how I feel about this piece. Something is missing. Passion, or believability. I feel like Kaylee needs to reach a little more, stretch out a little more, she still feels a little bit muted. I'd really love to see her let go. This piece wasn't bad, but I wasn't as into it as I could have been. Performance: B-
Solo #3: Koine
Song: "I Fall Apart" by Post Malone
Performance: I'm a little perplexed as to what she's wearing, but her solo is full of life which I adore.  Performance Grade: A-
Duet #4: Kiki and All-Star Jenna
Style: Broadway / Style: Warren Carlyle
Song: "Dancing Fool" by Barry Manilow
Performance Thoughts: Okay, soooooo I loved it. Who do you think as more pressure on them? The cane catcher or the cane thrower? This was just a really fun routine and Kiki showed off so much charisma. The props added an awesome level of intensity but the dancing was just a lot of fun. They were in sync, they looked like they were having fun, and they caught every cane. Performance Thoughts: B+/A-
Solo #4: Logan
Song: "Intro" by M83
Performance Thoughts: Love the head spinning, but could have done with more dancing, only because I love watching him dance. Performance Thought: B-
Duet #5: Koine and All-Star Marko
Style: Jive / Choreographer: Dimitry Chaplin
Song: "Rock Around The Clock" by Bill Haley & His Comets
Performance Thoughts: Watching this really made me want to go swing dancing. It had a lot of energy, and Koine looks so cute out there. I loved how all the lifts and twirls were so effortless. It really looked like they were having fun out there.  Performance Thoughts: B+
Solo #5: Kaylee
Song: "Bad Blood" by NAO
Performance Thoughts: I've always loved Kaylee's solo. This is where she really lets go I think, I wish she could bring some of that into her duet performances. Grade: B+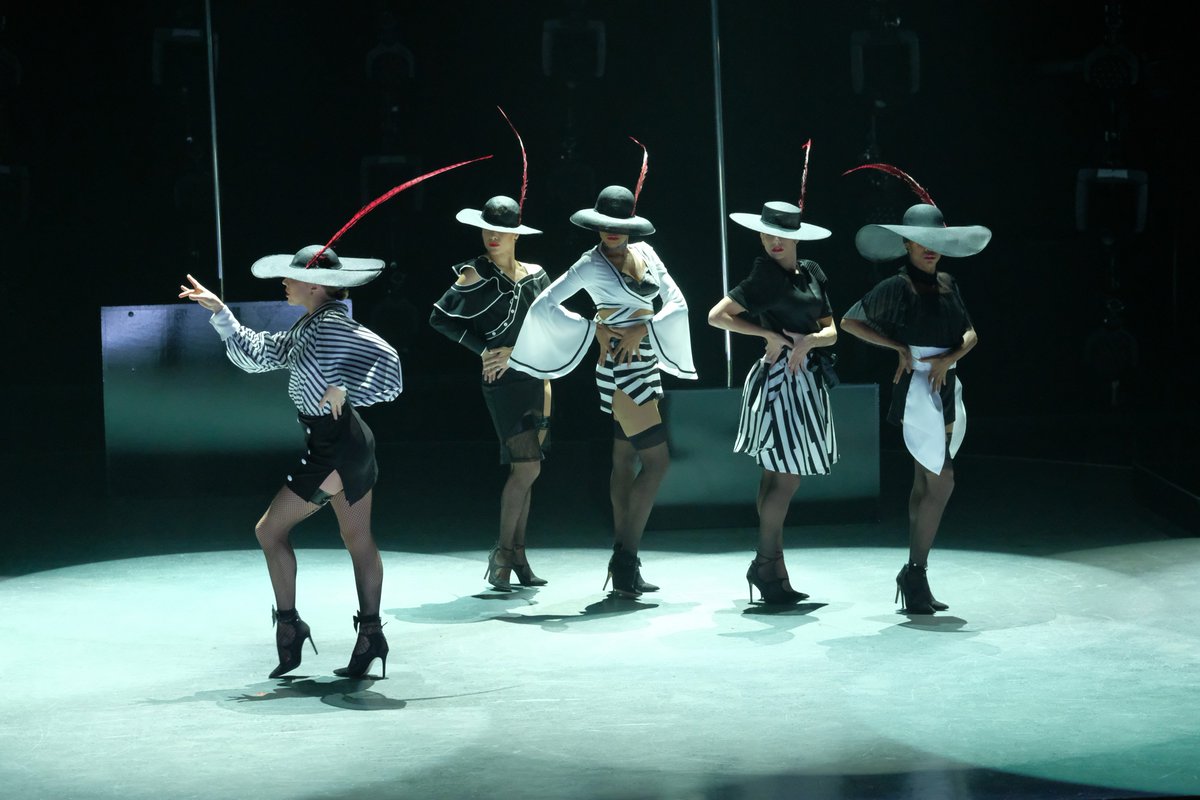 Group Performance – All Stars
This routine is SOOOOO Brian Friedman, with the weird French Mimes. Okay, they're not Mimes, they're just super French. But it's very stylistic. LOOOOOVVVEEE the use of the lamps as please and the fact that the men are dancing on it not the women. (Song: "Derniere Danse" by Indila / Choreographer: Brian Friedman)
Duet #6: Taylor and All-Star Robert
Style: Contemporary  / Choreographer: Mandy Moore
Song: "To Make You Feel My Love," by Mick McAuley & Winifred Horan
Performance Thoughts: Soooo beautiful. I mean the song realllly helped it along, and that dress is beautiful, but I just love how connected they are. They were just in their own little world together and it was romantic and sweet. It actually reminded me a lot of another yellow dress routine from Season 11 "Like Real People Do" with Jessica and Casey (and I may have liked that routine better). But this routine was super dreamy. And Taylors look at the end. Melts my heart. Performance Grade: A-
Solo#6: Lex
Song: "Sleep Talk" by Skye Chai
Performance Thoughts: I feel like in every one of Lex's solos I see something I've never seen before and I love that. I love the little back roll he did and the spin in the air move was incredible. Grade: A
Duet #7: Mark and All-Star Comfort
Style: Hip Hop / Choreographer: Misha Gabriel
Song: "No Twerk" by Apashe & Panther x Odalisk
Performance Thoughts: Unnecessary gong noise aside, this routine was actually pretty cool. I loved the tutting, the strong and slick moves, and the jagged edges of the routine. I loved the part where they threw each other back and back and back. It was pretty cool.  Performance Grade: Bish
Solo #7: Kiki
Song: "Land of 1000 Dances" by Wilson Pickett
Performance: Lots of energy. Fancy footwork. The ladies loved it. Grade: B-
Group Routine #3: Lex, Kaylee, & Logan
Performance Thoughts: First of all, great sound choice. This definitely was an anthem song and anthem routine. It took them a bit to find their groove together, they weren't always in sync. But it felt powerful and it felt strong.  Lex did this crazy spin ending in an arabesque. Beautiful. Performance Grade: B+ (Song: "Strange" by LP, Choreographers: Dwight Roden and Desmond Richardson)
Group Routine #4: Mark, Taylor, Koine, Kiki
Performance Thoughts: Before this piece even started, when I saw the name of the "song" I screamed, Yes! Sean Cheesman has been KILLING it this season with his song choices. From just the beat boxing mouth noises, to this piece with the spoken word, it's just been so amazing. This piece was so powerful. I almost wish that there was no audience noise. They all showed off their amazing strength, never straying too far from each other always somehow connected always in their little cluster. This piece involved a lot of trust, and a lot of heart, and a lot of strength both mentally and physically. It really was extraordinary.(Song: "Still I Rise (Maya Angelou)" by Alexis Henry / Choreographer: Sean Cheesman) Performance Grade: A
Cat Announces the Bottom Three: Kaylee, Mark, Kiki
My Thoughts: I love how Mark laughs about being in the bottom three. It just shows his joy for life. That being said, I am not mad at this three. I think it's time for Kaylee to go home, but I feel like the judges are going to send Mark home. It was something Nigel said. DON'T DO IT NIGEL!
The Person Going Home Is…Mark. Nigel says it was America's decision but was it Nigel? Was it? I may have actually gotten a little misty-eyed at Mark's goodbye package, though I think that has to do a lot with the IZ song. So sad he's going home!
Top 4 Performances
Mark, Taylor, Kiki, Koine – Group Routine
Lex and All-Star Gaby – Hip Hop
Logan and All-Star Allison – African Jazz
Taylor and All-Star Robert – Contemporary
The Dancers Ranked
Lex
Taylor
Logan
Koine
KiKi
Kaylee
RANDOM THOUGHTS

Cat: "I love it when Mary gets street!"
I'm entranced by Vanessa's yellow eyeshadow. I want to wear my eye shadow like that.
Mary Murphy: "Lord have Murphy." – That's genius.
Koine is so adorable. I mean really.
Looking up the "Like Real People Do" video on You Tube sent me down a SYTYCD Best Routines wormhole. Can't Stop Watching.
Cat after she makes a corny joke: "Shall I jump?" Meaning off the railing, to her doom.
Vanessa's perkiness and the fact that she just loves everything is now grating.
I love it when Nigel uses dance terms.
Next week 2 Dancers are Eliminated….And by Next week I mean tomorrow because I am SOOOO behind on this recap. Until tomorrow…(but I probably wont post my recap till next weekend…) my friends!