Double Elimination Time is here. Realllly FOX you couldn't have squeezed out one more episode with these incredible dancers? Tonight's episode will reveal the final four, because six minus two equals four. That's just a little math there for you guys. Lets press play!
SO YOU THINK YOU CAN DANCE
Season 14
Top 6 Perform
The opening routine was seriously high concept. It was modern contemporary dancing and also, the legos of dancing. There were spinning blocks, moving blocks, building blocks. It was all really stunning. I love the preciseness of the movements and the way that everything just went together: colors, costumes, lighting. It all had to be on point and it all worked. (Song: "Prism" by Nathan Lanier /  Choreographer: Christopher Scott)
Opening Random Thoughts:
Of course that opening routine was done by Christopher Scott, it all makes sense now!
Mary Murphy! Too much pink!
I don't know how I feel about Vanessa's hair.
Duet #1: Lex & All Star Gaby
Style: Samba / Choreography: Sasha Farber
Song: "Chillando Goma" by Fulanito
Performance: First we need to talk about the into. 1) I love that Gaby called Lex, Sexy Lexy, 2) I loved that it was the man who was asked to go topless, 3) I love that Gaby actually took off Lex's shirt for him. And I'm done. Now about that performance…Guys, Samba is weird. I mean there were just such a mixtures of dance styles here. A little Bollywood, a little African Jazz. It was all here. And I get that Lex was supposed to be sexy here, but I imagine it's hard to be sexy wearing what he's wearing, and you know, using Gaby's butt as drums…and then playing them. But whatevs, lets just talk about the actual dancing. I guess, me not knowing what Samba is, it was very samba-y. They seemed to dance it well, they looked like they were having fun, and it was very high energy. However I was very confused by the choreography and whole concept of the routine which bumps the whole thing down for me. Grade: B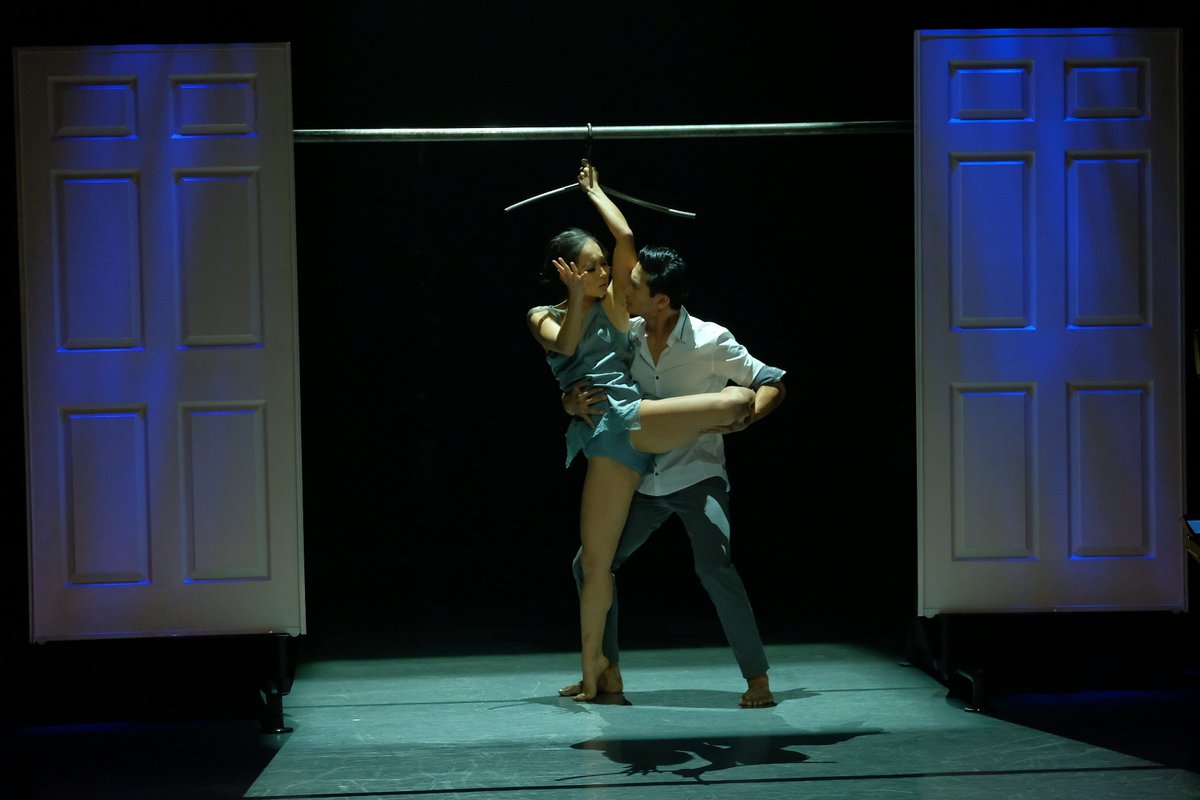 Duet #2: Koine & All Star Marko
Style: Contemporary / Choreographer: Mandy Korpinen & Elizabeth Petrin
Song: "You're The Last Thing On My Mind" by Aron Wright
Performance: The Minute I saw the hanger and the doors and the rod, I was super concerned. Sometimes high-concept routines with super props can be distracting. However this was not the case. Koine really brought the emotion to it all with her face and the hanger provided some really beautiful moments, like them spinning around and around just loving each other. It was a sweet and sad routine and I really loved it. Grade: A
Duet #3: Kiki & All-Star Jenna
Style: Jazz / Choreographer: Ray Leeper
Song: "Proud Mary" by Tina Turner
Performance: This was a high-energy crazy Jazz performance that almost didn't seem very jazzy. Jenna as always was fantastic, but Kiki was a little awkward in the beginning, then he got into it, but I think at the end he started to get tired. Luckily for him Jenna was the shiny object to distract us. The routine was OK, but I think it could have been better. Grade: B-
Duet #4: Kaylee & All-Star Cyrus
Style: Hip-Hop/ Choreography: Phillip Chbeeb
Song: "Die Trying" by Michl
Performance: Wow, this performance was super cool. The second you hear this is from Phillip Chbeeb you know it's going to be super unique and that's what it was. The prop of the ladder box was not even distracting in fact it added to the performance. There were so many cool moments like when Cyrus held her level to the ground and spun her, or when she was standing in his arms and he flipped her around like a windmill, or one of those sign guys. I really lived the choreography and just the uniqueness itself and I thought that Cryus and Kaylee did a great job. Grade: B+
Duet #5: Taylor & All-Star Robert
Style: Hip Hop / Choreographer: Mari Madrid & Kepne Madrid
Song: "Numb & Getting Colder" by Flume feat. Kucka
Performance: I loved this. It was super sick. It was weird and cool and just captivating. Taylor's isolations were spot on. I loved when she and Robert were just shaking ever so slightly in unison. And it was great to see another side of Taylor. This piece was more about the awesomeness of the moves and the dancing more than it was about character which I appreciated. Grade: A
Duet #6: Logan & All-Star Allison
Style: Contemporary / Choreographer: Dee Caspary
Song: "The Other Side" by Ruelle
Performance: I don't know what I think about this routine. I think in this routine I saw Logan more as a man than a boy which was good. Allison looked sexy as hell and there were times when the piece really worked, especially at the end when the music picked up and they were so connected.  But that rose stem or whatever was weird and distracting. And It was also kind of hard to see their movements with the black on black on black. Logan was incredible though. His moves are so big and he puts everything into them. I think maybe I didn't connect with the choreography. Performance: B+
Duet #7: Koine & Lex
Style: Disco / Choreographer: Doriana Sanchez
Song: "Knock On Wood" by Amii Stewart
Performance: Wow this routine was crazy! I think I say that all the time, but it was just not stop spin life spin lift! Spin! Lift! Moving so fast. I thought they danced it so well, though Lex could have been a little sexier about it. But can we talk about that ending? There was a little wobble at the end there and I seriously think Lex hurt himself. They were both hobbling to the end and holding each other up.  He's literally shaking while the judges are talking to him. They both seem off when this routine is over. Nigel and Cat finally call him out on it. Thank god. But you can totally tell he's not OK. Performance: B+
Duet #8: Taylor & Logan
Style: Jazz / Choreographer: Mark Kanemura
Song: "Gypsy" by Lady Gaga
Performance: Mark crying at the end of this routine is also everything! This routine was so happy. I mean lit was just free and light and happy and magical. It was super sweet and had all this lovely emotion with it. It really was a beautiful piece. And I actually thought Logan out danced Taylor, he lost himself in this piece in a good way. Grade: A
Duet #8: Kaylee & Kiki
Style: Bollywood/ Choreographer: Nakul Dev Mahajan
Song: "Gallan Goodiyaan" by Dil Dhadakne Do (Soundtrack)
Performance: I usually love Bollywood and I liked this, but it wasn't as fast as it usually is. I liked that it had a story to it, I like that lift section but I also feel like there was nothing really special about their dancing. Grade: C+
Top 4 Revealed: Lex, Koine, Kiki, & Taylor
My Thoughts: I gotta say, I'm super upset about Logan. Super upset. Come on America. I know Kiki looks good with his shirt off up Logan has the skills! Okay Kiki has skills too but still.
Top 3 Performances:
Koine and Marko – Contemporary
Taylor and Robert – Hip Hop
Taylor and Logan – Jazz
Random Thoughts
"You have to ask permission to play a girls butt bongos." – Cat
So Nigel told Lex he needed classes, Mary says that some of his technical moves in the Samba weren't great, but according to Vanessa, he doesn't need classes, he's stupendous. Sure, take it from her, Lex. Take it from her. (Man, I feel real mean right now?)
Watching Cat Deely do the Tina Turner moves is everything.
Miiiiiaaaaa Miiiiiiichaels!!!!
When Koine and Lex's critique is over. they're both ready to leave the stage and Cat stalls them. Lex gives this little look with his eyes. He's definitely not OK.
He's literally limping off that stage and he nearly collapses into Gaby's arms, guys I'm so scared for him.
I'm very surprised that Kiki has made it! What about Logan & Koine? They both have to make it too. Are they just kidding and there's really a top 5?
I'm sooo happy to see Lex standing up out there, but Taylor is definitely holding him up. When Taylor moves away there he's definitely limping on that foot. I'm worried about that kid.
Creepy Nigel Comment Of The Show: "I love the idea hanging a piece of lingerie in my closet tonight and seeing it filled by a beautiful woman later on."  – That look on Mary's face. Priceless.
Final Thoughts: I really hope Lex didn't get hurt too bad and I hope either he or Taylor take home the gold. Though more Taylor! It's been a crazy ride and we're almost to the end kids! Until then….