It's a new day, new episode. I can forgive the judges voting Robert off last episode, but I won't forget it. They better not vote off someone I adore again! Then again I don't really have that many contestants I'm not a big fan of: Sydney, Kaylee, Kiki…okay I guess three is a lot. That's 1/3 of the pack now. One of those guys *cough* Sydney *cough* can go home this week. But to find out who goes home, I have to press play, so here we go!
SO YOU THINK YOU CAN DANCE
SEASON 14
TOP 9 PERFORM
I think one of my favorite things about the show this season is the Hair Make-Up and Wardrobe. See the opening number as evidence. We get an awesome opening number and right away Lex stands out with his volcano hair. But back to that opening number choreographed by the always good, never failing Luther Brown, it was just fantastic and animalistic with hip-hop vibes as well as African jazz vibes. It was really cool. (Song: "YaYa" by Jonte)
Cat comes out with a cool outfit covered in gold grommets. I like it! She looks normal, like herself.  Vanessa, as usual look absolutely perfect.  I don't know how she does it. Okay, I do, it's called a Stylist. I gotta get me one of those.
DUET PERFORMANCE #1: LOGAN AND ALL-STAR ALLISON
Style: Jive / Choreographers: Emma Slater and Sasha Farber
Song: "5 Months, 2 Weeks, 2 Days" by Louis Prima
Performance Thoughts: Wow they sure hammed it up during this one, but I guess that's what you do for this style? That's an actual question, someone answer me. That being said this routine was all about energy and character. They definitely had the energy and Allison was sure in character, but I think they were lacking some chemistry today. However performed the routine really well, there was maybe one or two awkward moments in there, but overall it was a fun, energetic, light routine. Performance Grade: B-
Solo #1: Kaylee
Song: "Wait For You" by Elliott Yamin
Solo Thoughts: She looks so great in her body con body suit and I love how her hair looks turquoise today. Her routine shows off her musicality, but I want to see more from her. Solo Grade: C+
Solo #2: Sydney
Song: "Bla Bla Bla Cha Cha Cha" by Petty Booka
Solo Thoughts:  Her routine is typical ballroom solo, but she's slinky and manages to show off so sass and personality so I'll give her that. Still don't forgive her for being there over Robert, but I guess that's not her fault. Solo Grade: B-
DUET #2: KOINE AND ALL-STAR MARKO
Style: Hip Hop/ Choreographer: Dave Scott
Song: "You Don't Own Me" by Grace feat G-Eazy
Performance Thoughts: Koine really got into this piece and while I wish she didn't stay in that intense face the whole time, her dancing more than made up for this. She was in sync when she needed to be, hard when she needed to be and I love those moments where the camera got up close and intimate with her. It's almost like she didn't need Marko, but that part is a bad thing. It was supposed to be a duet and I didn't really feel like they were partnering. If it's about the dancing, Koine hit it and hit it hard, but the performance for the both of them could have been better. On another note, Dave Scott is back, y'all! Love him. Performance Grade: B-
DUET #3: DASSY AND ALL-STAR FIK-SHUN
Style: Jazz / Choreographer: Ray Leeper
Song: "Bring the Funk Back," by Big Gigantic
Performance Thoughts: Dassy and Fik-Shun definitely had chemistry this routine. It was fun, sexy, and high energy and also felt a bit 70's. I found myself smiling and just enjoying this routine. How she dances in those heels though I don't know.  Performance Grade: B
Solo #3: Kiki
Song: "Love Potion #9" by The Coasters
Solo Thoughts: The solo was nothing spectacular, but I love the confidence he exudes here. He needs to do that more in his duet performances. Solo Grade: B-
DUET #4: MARK AND ALL-STAR COMFORT
Style: Contemporary / Choreographer: Talia Favia
Song: "Ending" by Isak Danielson
Performance Thoughts:  This was a very different kind of contemporary and I have to say that ending shot with Mark rolling away like he was a piece of paper blowing in the wind took my breath away. I love how this contemporary piece had sharper movements as opposed to the flowy or delicate movements most contemporary routines have. And honestly, I couldn't take my eyes off of Comfort, she was amazing in this. I love the pose of Comfort like a dolphin with on his back supporting her with his feet, I love the move where Comfort twisted Mark around by the foot. I really liked the choreography of this piece and again, that ending. WOW. Mary said the piece was so raw there were moments when she actually thought they were going to hurt each other and I totally felt that, especially when they were hitting each other  in the middle there, the way Comfort pushed him away you could almost HEAR it. Performance Grade: B+/A-
Solo #4: Taylor
Song: "Escalate" by Tsar B
Solo Thoughts: This solo was fantastic. Anne Hathaway Taylor showed control, poise, and she really used every beat of the music to make some incredible shapes and poses. I really liked it. Solo Grade: A
GROUP PERFORMANCE #2: ALL STARS
Choreographer: Travis Wall / Song: "Strange Fruit" by Nina Simone
Performance Thoughts: First of all, I love that Jasmine got to be a part of this. Next the lighting and staging was on point as the dancers always used the base of the tree as the focal point and dance in and out as if they were the branches of the tree. That's some smart, sharp choreography thinking from Travis there. I love how intense it was without being intense. I think a lot of that has to do with Nina Simone and a lot of that has to do with the look on these dancers faces they are all really fantastic actors. When the camera gets close on Allison's almost upside down head, seriously chills. And for a moment I didn't know what was going on when their clothes changed, but that's the perks of having a pre-recorded routine. As for the routine itself it was mesmerizing and chilling at the same time. Love that ending image of the hands. It was just a smart and chilling routine. (Update: I had no idea this routine was about Charlottesville, maybe that's why I responded so much to that final image of the clasping hands) Performance Grade: A-
DUET #5: LEX AND ALL-STAR GABY
Style: Broadway / Choreographer: Warren Carlyle
Song: "Miss Otis Regrets" by Bette Midler
Performance Thoughts: You can always tell how incredible a routine is by the reaction from the choreographer. Warren Carlyle said at the end of the clip he wasn't sure if they were going to make it over the finish line, CUT TO Carlyle shaking his head in amazed disbelief as to just how good these two were. And they were GOOD. GREAT. INCREDIBLE. This routine and performance made me so happy. I loved where their feet were dancing as their faces were hidden behind the menus, I loved how Lex swished Gaby around that dance floor almost like she were a bag under his arm. I loved the expressions on Gaby's face. And the tricks were definitely incredible. Then when they danced those classic broadway moves we know and love together, in sync it was just so much fun. And they looked like they were having fun. That's important. I know we're only half way through, but I have a feeling this might be my favorite performance of that night. Performance Grade: A
Solo #5: Logan
Song: "Otherside", by Perfume Genius
Solo Thoughts: His solo was very circular, like a windmill or waves, it was very mesmerizing and the leg swipe thing he did was pretty cool. Solo Grade: A
DUET #6: SYDNEY AND ALL-STAR PAUL
Style: Hip Hop / Choreographer: Luther Brown
Song: "Really? Yeah!" by Kyle
Performance Thoughts: I really tried super hard not to like her in this piece, but I think the styling helped Sydney a lot. First of all, I love that neon color block bra-top she was wearing. I want that now. Where can I get it someone one tell me now! In the beginning she had the right attitude, the chill swag, the dirty grove that is so synonymous with Luther Browns style and choreography. But then just when I was starting to like her, she kept that silly grin on her face. The look on her face is just how I imagine I would look if I was trying to look cool. It's this super tight smile as if someone was annoying you, but you were trying to be polite to placate them. I wish she varied her facial expressions a bit more. Overall, the dancing wasn't terrible, the vibe wasn't terrible, but the routine was nothing to wright home about. Vanessa hits it on the nose when she says  Sydney kept it cutesy. Performance Grade: C
Solo #6: Koine
Song: "Confidently Lost" by  Sabrina Claudio
Solo Thoughts: Her solo is sexy, which is a different side of her. She also does this cool crab pose where all her limbs make jagged edges. Solo Grade: B+
GROUP PERFORMANCE #3: TOP 9 DANCERS
Song: "Hey Pachuco!" by Royal Crown Revue / Choreographer: Chris Baldock
Performance Thoughts: It's cool routine and different than other group routines. Less chaotic somehow. When the Top 9 Dancers dance together, it's easy to see the weakness in some of the dancers, where they don't make the same shapes as their fellow contestants. Love the neon patches on the uniform suits. Performance Grade: B
DUET #7: KAYLEE AND ALL-STAR CYRUS
Style: Jazz / Choreographer: Spencer Liff
Song: "Less Talk, More Art" by Vito Fun & Koil
Performance Thoughts: Kaylee definitely out danced Cyrus in this routine. Styles like this where she can be weird and funky are definitely where she excels. She looked so fantastic, her moves were slick, her attitude was just right and she looked relaxed like she was having fun. Cyrus looked more uncomfortable and they fell out of sync a few times but I think that was Cyrus' fault. As a whole the routine was good, not great, but Kaylee knocked it out of the park. Spencer Liff's expression when the camera cut to him was that of confusion – almost like he didn't know how to react. Performance Thoughts: B (Though for Kaylee herself she gets a B+).
Solo #7: Mark
Song: "I See Fire" by Ed Sheeran
Solo Thoughts: I love that Mark puts his solo to songs with smoother beats. I love seeing him in his break dance style. Serious and brooding definitely sits well on Mark. Solo Grade: B+
DUET #8: TAYLOR AND ALL-STAR ROBERT
Style: Samba / Choreographer: Jean Marc Genereux
Song: "Bun Up the Dance" by Dillon Francis & Skrillex
Performance Thoughts: This routine was actually a lot of fun. It seemed almost like a mixture of dance styles and really challenged Taylor with technique, there wasn't really a place for her to hide in this routine. I thought she danced it well, and her and Robert had great chemistry, but I was missing the fire Jean Marc was talking about. She had the same Sydney-like cutesy smile on her face throughout, almost like that smile was helping her concentrate on the steps. Sometimes it worked, but sometimes I wanted to see more heat and passion. Like the caress of Robert's chest, or a sultry look. That ending look was definitely a look she needed more throughout the routine. Good, solid performance, but she could do better. Performance Grade: B
Solo #8: Dassy
Song: "Soundclash" by Flosstradamus & TroyBoi
Solo Thoughts: I loved this solo. I love this side of Dassy in her element. Her animation skills are so cool. Solo Grade: A
Solo #9: Lex
Song: "Trndsttr (Lucian Remix)" by Black Coast feat. M. Maggie
Solo Thoughts: This show has definitely broken Lex out of his shell. Paired with the song, his solo was smooth, and controlled and super cool, funky, and full of personality. This is Lex at his BEST! Solo Grade: A
DUET #9: KIKI AND ALL-STAR JENNA
Style: Contemporary / Choreographer: Mandy Moore
Song: "The First Time Ever I Saw Your Face" by George Michael
Performance Thoughts: Though Kiki definitely showed his shades of ballroom, I actually liked it. Jenna did this cool in the air somersault through Kiki's arms which was super cool. He was definitely a good, supportive partner for her. I wish Mandy had thrown him a little more tricks. That being said their chemistry was off the charts. I loved the way Jenna melted him, or a side smile Kiki would give her at just the right moment. It was super romantic and hot even though the song was mellow and the costuming was delicate. Also, guys Kiki looks good. I think he got a haircut right? He's definitely moving up on the radar for me. Performance Grade: A-
BOTTOM THREE
My Thoughts on the Bottom Three: Currently my bottom three are Sydney, Kaylee and well it would have been Kiki only he was so good in that last routine it knocked him off and I don't know who I'd replace him with. That being said, of these 3, I hope it's Sydney that goes home. It's her time judges, come on! Plus I honestly feel that Dassy's solo and Marks performance TODAY saves them from going home.
Who's Going Home: Sydney
My Thoughts: Nigel reveals that it was Mary and Vanessa who voted to keep Sydney in last week, which is interesting, very interesting. That being said the judges made the right call today in sending Sydney home. It was her time and she wasn't growing fast enough. I am very happy that Dassy and Mark are safe!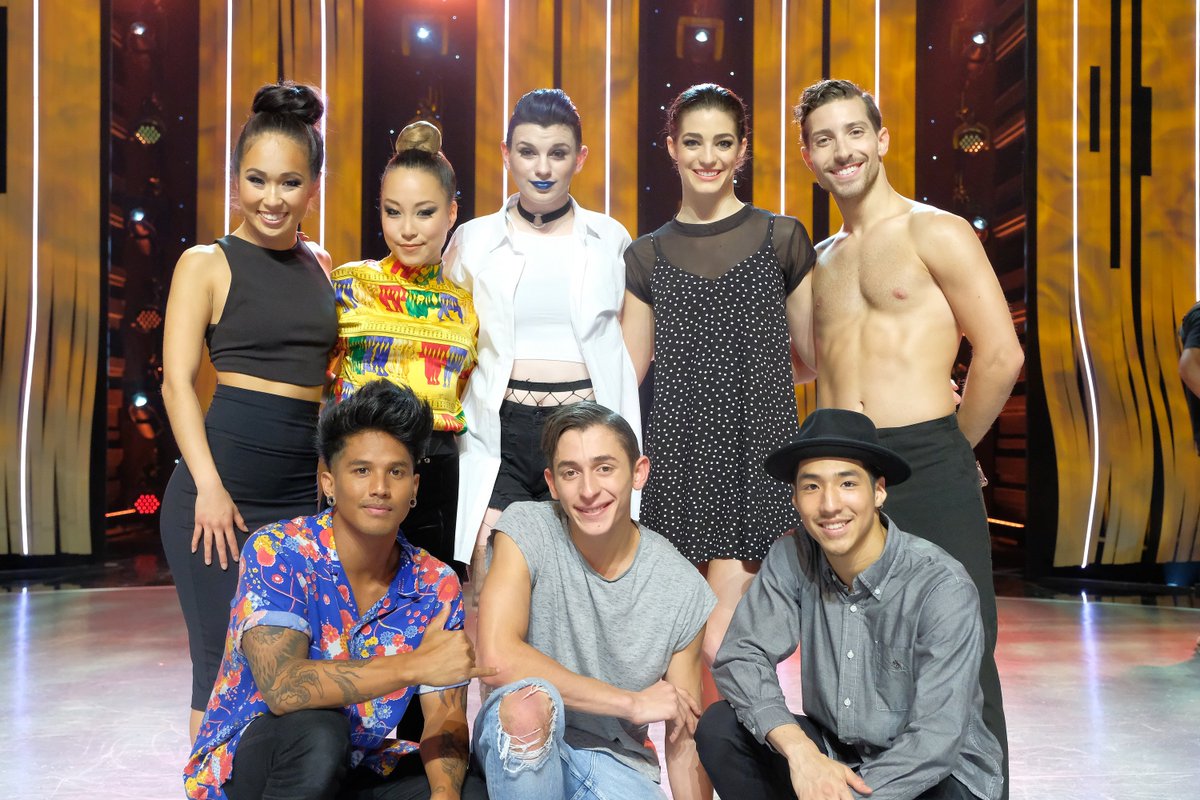 TOP 3 PERFORMANCES
Lex and Gaby – Broadway
Mark and Comfort – Contemporary
Kiki and Jenna – Contemporary
RANDOM THOUGHTS:
Sometimes Vanessa's awareness of her "cuteness" is annoying.
Love, Cat asking Fik-Shun to "blow on her." Breath check guys, breath check.
Mary needs to stop it with the "hip" lingo. Related: So does Nigel.
I want/need/desire Kaylee's electric blue lipstick.
Love Travis' face when they cut to him/Mandy Moore after asking if Jenna and Kiki kissed.  His face was like "whoops!"
Nigel Creepy Comment of the Show: "It was slightly naughty."
My Ranking of the Contestants After This Episode
Lex
Logan
Taylor
Koine
Mark
Dassy
Kiki
Kaylee
Overall the performances were lackluster today. The only one I really really like and remember is Lex and Gaby but even that doesn't compare to Taylor and Robert's performance from 3 episodes. I want more stand-out moments! Bring it on.
Until next week…