This years Golden Globes were disappointing to say the least. Ricky Gervais has always had this awkward "I don't give AF" humor about him. But as Captain of this show it was apparent that this ship was sinking and QUICKLY. Here are my thoughts about this rough, rough show.
Jonah Hill as a bear…awkward.
Kate Winslet was played off? You don't play off Kate Winslet.
I am so excited for Rachel Bloom because the show is SO GOOD. I love how excited she is.
Ricky Gervais introducing Matt Damon: "He is the only person Ben Affleck hasn't been unfaithful too." Oh DAMN. Matt Damon is SOOOO flustered.
Was it just my audio cutting in and out or are people just constantly swearing?
After being in so many failed TV shows, I love the fact that Christian Slater won a GG for Mr. Robot.
When QT accepted the award for his composer and he said the word "ghetto" I knew it was going to become a thing. And sure enough it did, Jamie Foxx mentioned it immediately after he left the stage. It was also super awkward when Jamie announced Straight Outta Compton as the winner. Is this a Kanye West/Taylor Swift thing? Is this a Steve Harvey Flub Mocking thing? This whole thing was just awkward between two people who have worked together before.
Yay Sylvester Stallone won for Creed! Standing Ovation well deserved (even if I didn't see the movie).
I love Amy Schumer. I love Jennifer Lawrence. I'm SO TIRED of all this fuss over it. I'm actually with Ricky Gervais on this one. I know it's not them, but the media. But seriously people, they're friends, get over it.
Also, Amy Schumer as HOST next year people? Anyone?
Is it weird that I'll always think of Gael Garcia Bernal as that flaky guy in Letters to Juliet?
Love the microphone being lowered for Ken Jeong and Kevin Hart. Hilarious.
Lady Gaga looks so elegant! Even more elegant? That look Leo gave Lady Gaga when she passed by him. CLASSIC.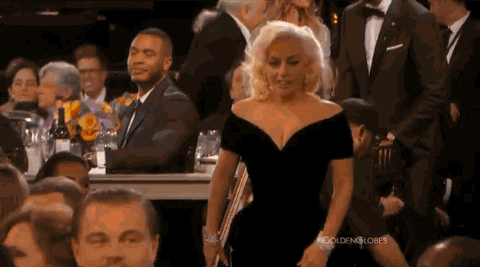 I would have loved to know what Ricky Gervais said to Mel Gibson but it got BLEEPED out. COME ON! Can't just one word get bleeped out by normal shows? I found it, thank you internet.
Loved Mr. Robot shouting out to their crew members from Transpo department and production assistant in their speech. I love it when below the line crew members get thanked.
Loved them showing a clip of Ryan Gosling when Denzel Washington went up to accept his award. #rememberthetitans
Denzel's speech was a mess though, he was so flabbergasted.
I am so frickin' excited that Brie Larson won! (Even though I would have been equally as happy if Alicia Vikander won.)
Are Alicia Vikander and Michael Fassbender a thing? Am I the last to know this?
I'll be honest, I haven't seen The Revenant. But here are four things I thought when Leonardo Dicaprio Won for Best Actor:

I think this will be the year of LEO. He better #FINALLY win an Oscar.
I love how excited everyone is for him. Love the standing O he's getting.
All this is well deserved, buddy.
That speech tho…Stay classy, Leo.
Hey DON'T PLAY LEO OFF!
After all this love for The Revenant, I should probably watch it.
Thank God this show is over!